Bio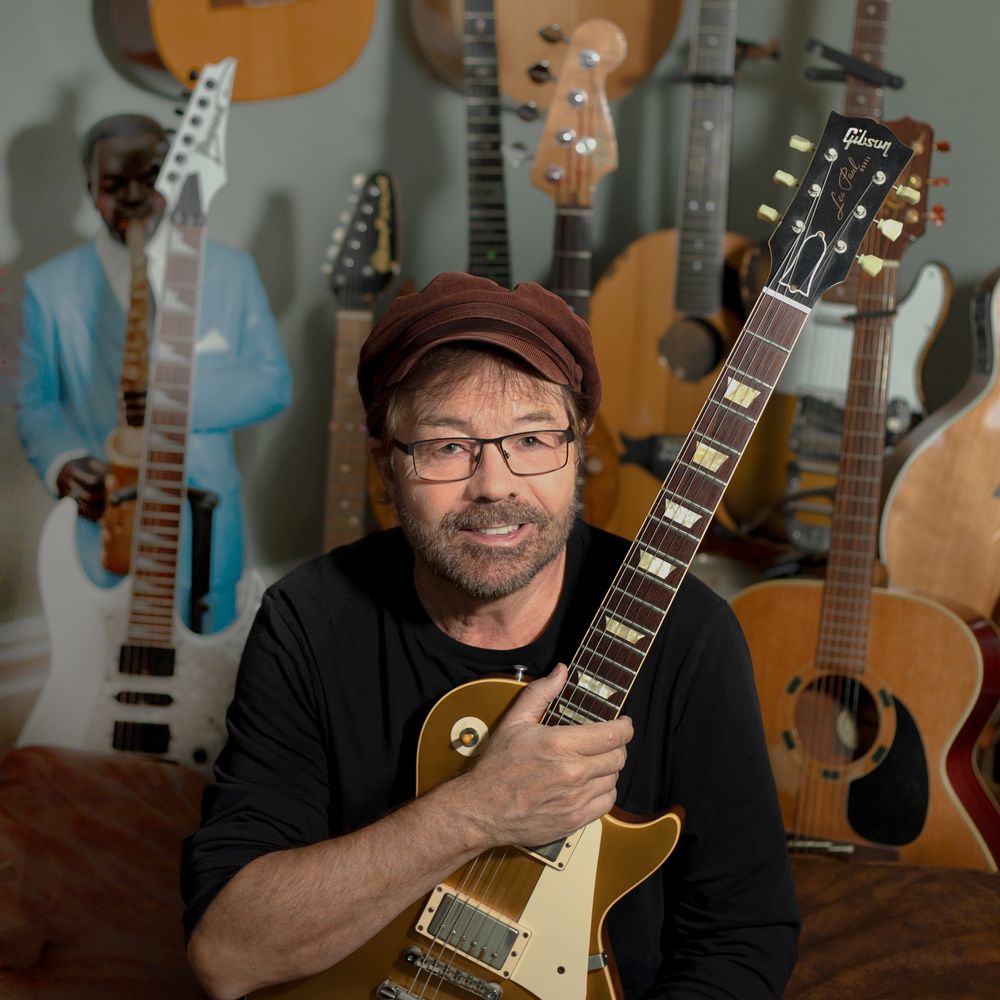 rob fennah opens a new branch of his bluenote guitar school on the wirral. but before that...
In the mid-70s, at the age of 15, Rob joined his first band, Buster. Two years later the group signed to RCA and had hit records in Japan, Europe and Australia. By the age of 18, he had penned his first top 3 hit, received a gold album for 'The Buster Live' together with a clutch of best-seller awards. The bands first single, 'Sunday' occupied the Number 1 position in Japan for a full 7 weeks.
Rob has performed at some of the world's most prestigious venues including: The Sydney Opera House, Australia and The Budokan, Tokyo. In 2014, The British Embassy in Tokyo published a list of the most successful top 25 UK bands in Japan since the Beatles. Rob's band, Buster, was one of them: https://www.youtube.com/watch?v=HQVF_G5ZhDA . The Buster back-catalogue has been re-issued numerous times on CD and Vinyl but, in the fall of 2021, Sony Music released a three-album collection for digital download.
In 1984 Rob teamed up with his brother Alan and formed a new band, Alternative Radio: https://www.youtube.com/channel/UCfIB_h0-apO3dZQBjKy5MWw They were the first artists to sign to EMI's re-launched Parlophone record label. They recorded two 'live' sessions for BBC Radio 1, one of which was voted Best Session Of The Year'. The band is still going strong and will be performing two 'live' shows, 16 -17 December at the Floral Pavilion Theatre, New Brighton - https://www.floralpavilion.com/en-GB/shows/alternative%20radio/events/2
During the 90s, Rob was also writing for TV, Film and Theatre. This led to the setting up his own production company, Pulse Records Limited.
In 2005, together with his brother, Alan, they won the Unisong International Song Contest 2005 with a track called' Yesterday's Man' (featured on the Alternative Radio album 'Subject To Status'). https://open.spotify.com/artist/7HOMPH0bP9826N6TrUjwiR  
A chance meeting with best-selling author Helen Forrester resulted in Rob's stage adaptation of her most famous works, Twopence To Cross The Mersey and By The Waters Of Liverpool. Twopence To Cross The Mersey is touring the UK in Autumn 2022 www.twopencetocrossthemersey.com followed by its sister show By The Waters Of Liverpool in Autumn 2023  www.bythewatersofliverpool.com  
Rob and Helen remained firm friends until her death in 2011, aged 92.
In April 2018, Rob's stage play, Lennon's Banjo, premièred at Liverpool's Epstein Theatre. It featured former-Beatles' drummer, Pete Best, in a cameo role and made headlines around the world. The stage play, adapted from the novel Julia's Banjo by Rob and Co-Author Helen Jones, tells the story of a Beatles tour guide who unearths a clue to solving the greatest mystery in rock history - the whereabouts of John Lennon's first musical instrument which has been missing for over 60 years. You can buy the novel here: http://www.juliasbanjo.com/  
A UK tour of Lennon's Banjo will be announced shortly. Show details here: www.lennonsbanjo.com
As an accomplished guitarist, Rob enjoys teaching 'one to one' from his very own Bluenote Guitar School in Wallasey, England. He also teaches, Bass and Ukelele. His accompanying YouTube Channel (Fennah Rob) covers all guitar styles and is free: https://www.youtube.com/channel/UCdPrFOPBnDY9xsYxRoG9e3Q?app=desktop
Rob has also produced his own collection of artwork which can be viewed here: https://www.photo4me.com/profile/29372/all/all?sortby=popular&filterby=all&shape=all